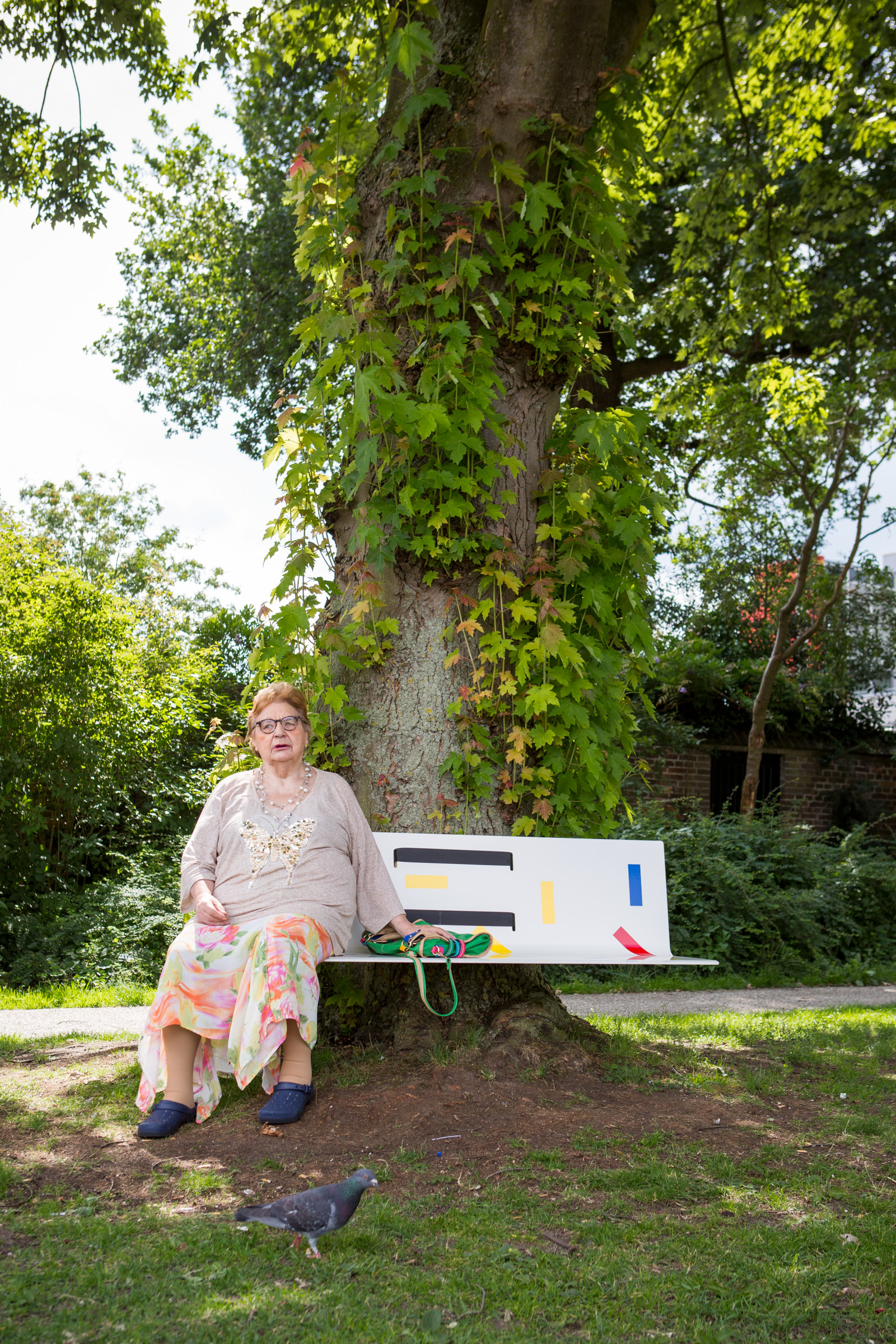 TREEBENCH (ENG)
The Treebench is placed on twelve locations around the city of Amersfoort. The Treebench is a mobile city bank, where every visitor or resident can sit and enjoy the surroundings. The locations are in the green area's around the inner city.

Rogier Martens inspired his design by the characteristics and growth of mushroom along with the enormous carrying capacity of trees. Martens wanted to create a bench that works with what the park has to offer. The ideal city bench needs the park and the park needs the bench. The Tree Bench will not harm the tree itself

The Treebench is part of 'Beelden van Banken', a project in which twenty artists and designers have made designs for contemporary city benches, commissioned by the municipality of Amersfoort.

Product title: Boombank / Treebench
Design: Rogier Martens 2008/2017
Product development: AANDEBOOM
Size: 160 x 45 x 45 CM
Material: Steel, Oak & straps and lashings
Photo credits: Wiebke Wilting

More information and sales contact: info@rogiermartens.nl
De Boombank (NL)
Op twaalf plekken rondom de binnenstad van Amersfoort zijn de Boombanken geplaatst. De boombank is een mobiele stadsbank, waar iedere bezoeker of inwoner kan plaatsnemen en genieten van de omgeving. De locaties bevinden zich voornamelijk in het groen rondom de binnenstad.

Rogier Martens liet zich voor dit ontwerp inspireren door de wildgroei van schimmels en paddenstoelen op de boomschors en door de enorme draagkracht van bomen. Martens wou een bank creëren die werkt met dat wat het park te bieden heeft. De ideale stadsbank heeft het park nodig en het park heeft de bank nodig. De boom ondervindt geen hinder van de Boombank.

De Boombank maakt onderdeel uit van 'Beelden van Banken'. Dit is een project waarin twintig kunstenaars en vormgevers ontwerpen voor hedendaagse banken hebben gemaakt, in opdracht van de gemeente Amersfoort. In het kader van het Stijljaar heeft Rogier Martens de opdracht gekregen om zijn ontwerp van de boombank uit te werken passende bij het thema van de Stijl.